Well, I guess I shouldn't complain that much. And I don't think you all need to hear all my woes. And there are certainly many people out there who are having worse weeks. But I have not really had a very good last 3 days. Sunday I went to lunch with some of my co-workers and burst into tears. Then the last two days I have been on the verge. And then today, I was all geared up to go to yoga tonight and I had no clothes! I had packed them up this morning and left them by the door. So when I got there I was really upset. Yoga has become my way to relieve myself from all of my stress. When I moved to St. Louis I started going to Bikram yoga. An hour and a half at 105 degrees is a great way to forget all my worries. And tonight I really needed to go. So instead I came home and decided to blog. I might as well utilize what has become my other stress relief.
So for some knitting content. Finally a FO. Here is my tank! (sorry for the blurry picture)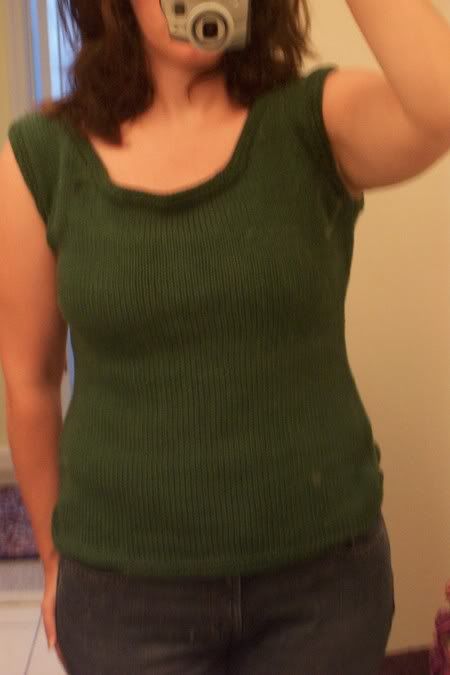 Pattern: Shapely Tank from White Lies designs (I can't get the link to work)
Yarn: Brown Sheep Cotton Fleece in Jungle Green (from the best ever Secret Pal, May)
I love it. I wish I had altered the pattern a little. The neck band is a little ruffly, I think I picked up too many stitches. But I can live with it.
Finally, I have been tagged by Rachel with the book meme. She and I went to the same college. She was an english major and I was not, as you can probably tell by my answers. But I lived with one, does that count. I must warn all of you avid readers, my answers will probably not inspire you to go and crack open any great books.
Total Number of Books in Your House
Tons, I don't even know where to start. At least 300. There are tons that I have never even opened. And all of my medical books. There are a lot.
The Last Book You Bought Was…
There Eyes were watching God. I watched the movie when it was on TV and thought, I really have to get this book. But I haven't opened it yet.
What Was the Last Book You Read Before Reading This?
The Heart is a lonely Hunter by Carson McCullers. But I have been trying to read it
Write Down Five Books that You Often Read or that Mean A Lot to You
1. Williams Obstetrics. I don't recommend it to everyone, but it is the book that has gotten me through the last 6 years of my life. And I pick it up often.
2. Wuthering Heights. I think because I had tragic paper writing experience with this one. Maybe that is why I never became an english major.
3. I don't really have any other books that I read often or mean a lot to me. Unfortunately most of what I read is medical journals. I wish I had more time to read for pleasure. But I have always been a slow reader, and I have had so much other stuff to read in the recent past that my novel reading has gone by the wayside. Any suggestions on how to improve my reading speed will be greatly appreciated.
What Books Can You Absolutely Not Wait to Read to Your Children
I have to say anything by Dr. Suess. What a great exposure to great rhymes and all kinds of crazy creatures. But that will be far in the future since Mr. Right has not come into the picture yet.
Who Will You Tag Next and Why?
I am going to tag my sister Ashley, cause I know she has more time to read than me. But I also know that she is very busy, so we will have to see what she says.
Okay, I need to read more – and not medical related things.. So I think I may pledge not to watch any TV for the next week. And I should read something for fun, but I also have a lot of reading to do for work. For all of you out there, keep knitting.